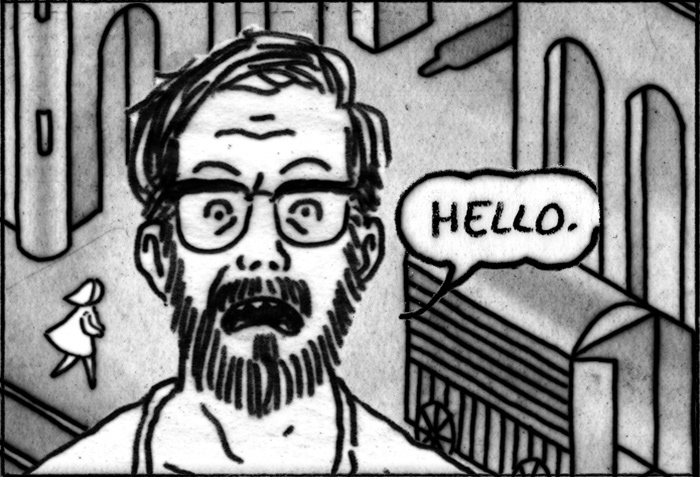 (Contact coleclosser@gmail.com with inquiries.)
Cole Closser holds an MFA in Sequential Art from the 
Center for Cartoon Studies
 in White River Junction, Vermont. His first graphic novel, 
Little Tommy Lost
 (Koyama Press), was named one of the ten best graphic novels of 2013 by A.V. Club (the Onion), nominated for the Will Eisner Comic Industry Award in the category of Best Publication Design at the 2014 San Diego Comic-Con, and featured in 
Best American Comics 2015
. Cole's second graphic novel 
Black Rat
 (also Koyama Press) met with favorable responses from such publications as The New Yorker and The Globe and Mail, and was listed as a Notable in Best American Comics 2017.
Cole's work has been featured in such publications as Best American Comics from Houghton Mifflin Harcourt, Over the Garden Wall, Adventure Time, and Regular Show from Boom Studios, Little Nemo's Big New Dreams from Toon Books, Little Nemo: Dream Another Dream from Locust Moon Press, Carousel Magazine, The Dreadfuls from Rotland Press, and Velour: The Drag Magazine from House of Velour.
Cole is an Assistant Professor of Art & Design at Missouri State University in Springfield, Missouri—where he teaches design, illustration, and graphic narrative (comics).
Cole is generally a nice guy, but don't jive talk him. He enjoys reading books with funny pictures, watching old cartoons, and wrestling alligators. Cole likes cats.
____
You can buy some of Cole's comics at 
Amazon
, 
Barnes & Noble
, or most major retailers.  If you have a local bookseller, you can ask them to order direct from the distributor for you instead.
Write to Cole at:
coleclosser@gmail.com
Cole doesn't understand social media, but he uses it occasionally. Show him how it works at: